Netflix and other streaming giants pay to get branded buttons on your remote control. Local TV services can't afford to keep up
Author  Ramon Lobato, Alexa Scarlata & Bruno Schivinski
Date 26 April 2023
If you've bought a new smart TV in the past few years, you'll likely have a remote with pre-programmed app shortcuts, such as the now ubiquitous "Netflix button".
These branded buttons offer one-click access to select apps.
The choice and design of shortcuts vary between brands.
Samsung remotes have a monochrome design with small buttons for Netflix, Disney+, Prime Video and Samsung TV Plus. Hisense remotes are overflowing with 12 big, colourful buttons advertising everything from Stan and Kayo to NBA League Pass and Kidoodle.
The remote is now a thoroughly commercial space.
Behind these buttons there is a lucrative business model. Content providers purchase remote shortcut buttons as part of negotiated deals with manufacturers.
For streaming services, presence on the remote control provides branding opportunities and a convenient entry point into their app. For television manufacturers, it provides a new revenue stream.
But the TV user must tolerate unwanted advertising every time they pick up their remote. And smaller apps – including many Australian apps – are disadvantaged because they are typically priced out of the market.

Who's on your remote?
Our research examined remotes for 2022-model smart TVs from the five major television brands sold in Australia: Samsung, LG, Sony, Hisense and TCL.
We found all major-brand TVs sold in Australia have dedicated buttons for Netflix and Prime Video. Most also have Disney+ and YouTube buttons.
However, local services are harder to find on remotes. A few brands have Stan and Kayo buttons, but only Hisense has an ABC iview button. None have buttons for SBS On Demand, 7Plus, 9Now or 10Play.
---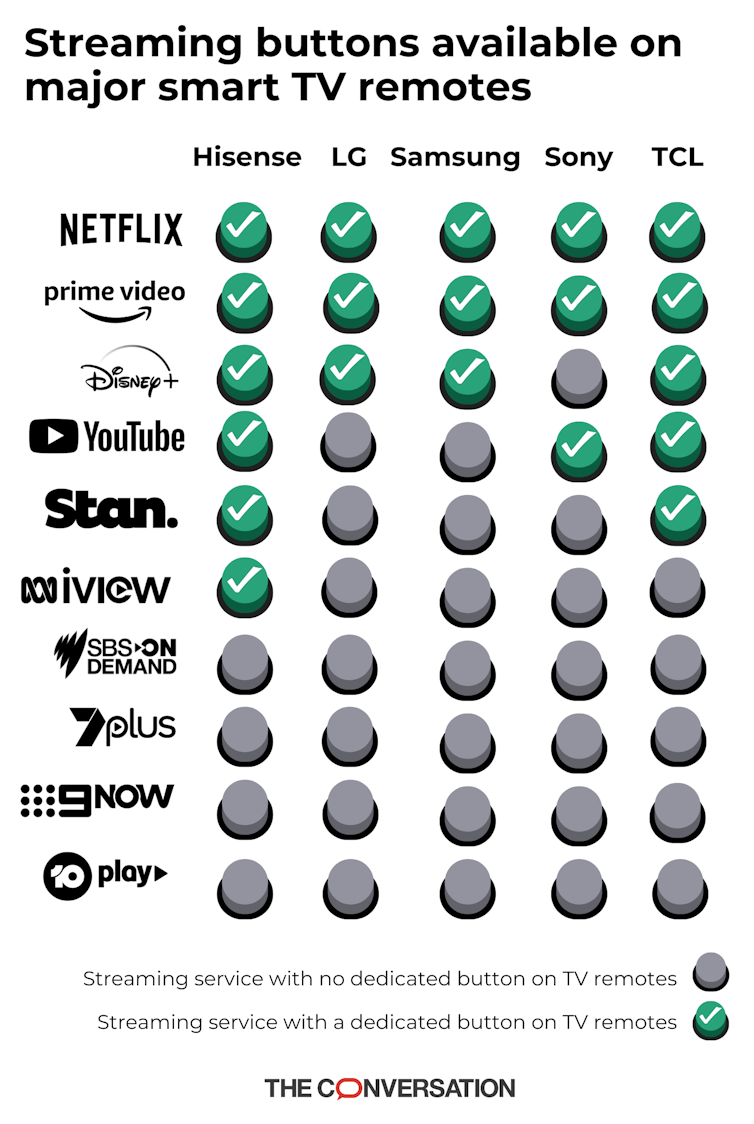 ---